Gaetano Mirisciotti has begun his activity as a ceramist after having attended a course of ceramics in Caltagirone, where he learned precious techniques from the most famous ceramists of Caltagirone.
His production goes back to the ancient Sicilian tradition and the decorations ,that Mirisciotti "expose" on the bisque expressly glazed, reflect ages and styles from the Middle Age to the XIX century.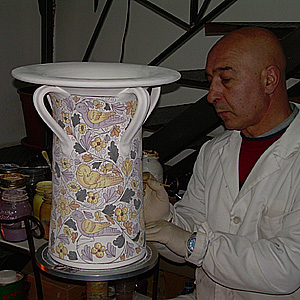 The peculiarity of his work is in the search for decorations. His inspiring sources are museums, churches, etc….
His products aren't serial but they are original for decorations and chromatic sensuality, where light has no edge , the sun plays the lord and master and colours like yellow, blue, green and cobalt express "Sicilian typeface".
The necessity to adapt decorative need to new forms determines innovation and originality in his production. Here we find ancientness and tradition: all the Sicilian and Mediterranean soul.
We take as example many interesting productions: the remaking of the Cathedral floor of Enna supported by CEI ( Conferenza Episcopale Italiana), with the contribution of the Regional Province of Enna and the supervision of the Service BB.CC.AA.
He made also the "abduction of Proserpina", painted on a plate and given by the province of Enna to the President of Italian Republic Carlo Azeglio Ciampi. Another of his works is the "albarello", with a decoration typical from Trapani of XVIII century that the feminine division of C.R.I has given to Mrs Franca Ciampi.
Then he made a plate representing Castrogiovanni (Enna), at the end of XVII century, going back to a manuscript of friar Giovanni of Cappuccini and given by the Province to the Environmental minister of the Government Zapatero for the occasion of the the 3° European Prize of Greenways, organized by the European Greenways Association with the collaboration of the Commission of European Community and the support of the Spanish Environmental Minister.